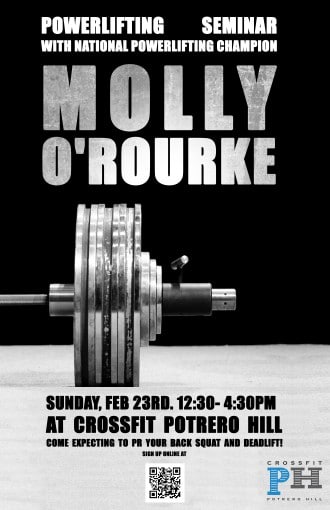 12 Feb

Powerlifting Seminar-Sunday Feb. 23rd

Powerlifting consists of three lifts: the squat, bench press and deadlift. Training powerlifting-style can be exerting, but lifting heavy weights makes the body stronger. Not just the muscles, but also bones and connective tissues become stronger. "Heavy lifting" is, by definition, training using low reps and challenging weights. Strength is achieved as the body adapts to a training regimen of heavy lifting.

In this class, you will learn how to lift heavy. We will explore some of the following principles/ideas:
* Risk/Reward trade-off, i.e. heavy lifting carries higher risk of injury, but also introduces the possibility of considerable strength increases over long periods of time.
* How to use correct form to minimize the risk of injury.
* Using low reps/high-effort lifting for gaining strength.
* The importance of consistency.
* The importance of rest, recovery and nutrition.
* Using lifting cycles to guide you through long periods (years) of strength increases.
* How to listen to your body.
Who should attend?
Anyone who is experienced with the deadlift and squat and wants to learn how to use these lifts to gain strength is encouraged to attend this class. This class is not an introduction to deadlifts and squats. Prior experience with deadlifts and squats is mandatory.
is an elite competitive powerlifter and former competitive judo athlete. After retiring from judo with two national titles in 2011, she began competing in powerlifting. She has competed at the Olympia four times, the American Cup twice, and took the silver medal overall at the 2013 IPF Classic World Championships in Suzdal, Russia. She is known for performing all her lifts without the use of any equipment, not even a weight belt. She holds California records in the squat (424 pounds), bench press (281 pounds), deadlift (485 pounds) and total (1190 pounds) within the United States Powerlifting Association.
Watch her lifts from the 2014 USPA LA FitExpo
2014 USPA LA FitExpo Champion (Heavyweight @ Los Angeles, CA)
2013 IPF World Team Member, Silver Medalist (SHW @ Suzdal, Russia)
2012 USAPL National Champion (SHW @ Killeen, TX)
2012 USPA National Champion (SHW @ Costa Mesa, CA)
2012 RAW Unity Champion (Heavyweight @ Corpus Christi, TX)
2011 Olympia Deadlift Champion (SHW @ Las Vegas, NV)
2011 USPA National Champion (SHW @ Port St. Lucie, FL)
Squat: 424.2 pounds
Bench press: 281 pounds
Deadlift: 490.5 pounds
Total: 1190.2 pounds