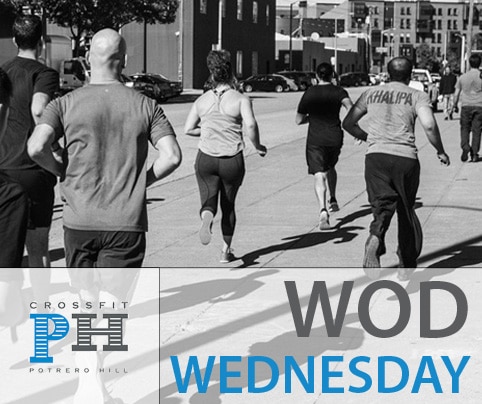 15 Dec

WEDNESDAY, DECEMBER 16TH
STRENGTH:
1 min stations, for 5 rounds:
-Front Foot Elevated Lunges x5 each leg wtih KB/DB- AHAP
-Bent Over Row w/ KB/DB x 10
-Plank Bird Dog x 10
WOD:
10 min AMRAP
50 Unbroken Double Unders
20 Reverse Step Goblet Lunges (single DB/KB)
Lv1: 35/20
Lv2: 45/25
Lv3: 53/35
REQUIRED by the City of San Francisco: Short COVID-19 Questionnaire before EVERY class. CLICK HERE.
A PEEK INTO THE WEEK…
Thursday- Push dominant (heavy Jerks)
Friday- Pull- dominant
Sunday Funday- "CrossFit Total!"- find a 1 rep max of each: Back Squat, Strict Press, and Deadlift.