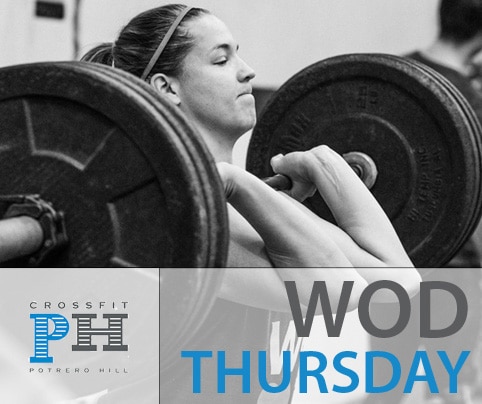 30 Oct

THURSDAY, OCTOBER 31ST

HALLOWEEN PARTNER WOD / COSTUME CONTEST !
SATURDAY, NOV 2ND. 9-11AM. POTLUCK TO FOLLOW SO BRING FOOD/BEVERAGE TO SHARE! THIS WILL BE HAPPENING IN PLACE OF LNT/CROSSFIT CLASS.

WORKOUT OF THE DAY
EMOM X 25
MIN 1: 12/10 Cal Row
MIN 2: 6-8 Oly *Goat Mvmnt
MIN 3: :45 Plank Hold
MIN 4: 10 Back Extensions/BB Good morning
MIN 5: :45 Shoot Thru

*An Olympic movement that needs skill work. Easy-Moderate weight

____________________________________________________________
LITE N' TITE
3 ROUNDS FOR TIME
100 Double Unders
20 Wall Balls
15 T2B
10 *Hang DB Power Cleans

*Athlete's choice -heavy weight

CURRENT WEEK PROGRAMMING 10/27/19-11/2/19

Log your scores on
Don't have a BTWB WOD Logging Account? Click Here and join CrossFit Potrero Hill, we provide free access to this tool for our member athletes.